2020/09/17 | Events | Surgical technologies
CURAC 2020: 3D models in patient-neurosurgeon communication
The ARTORG Image Guided Therapy group will be at the Annual Meeting of the Deutsche Gesellschaft für Computer- und Roboterassistierte Chirurgie (CURAC) in Hamburg (17-19.09.2020). Fredrick Johnson Joseph will present the preliminary results of an ongoing study in which neurosurgeons use patient-specific 3D printouts of the skull and brain to inform patients about an upcoming aneurysm surgery.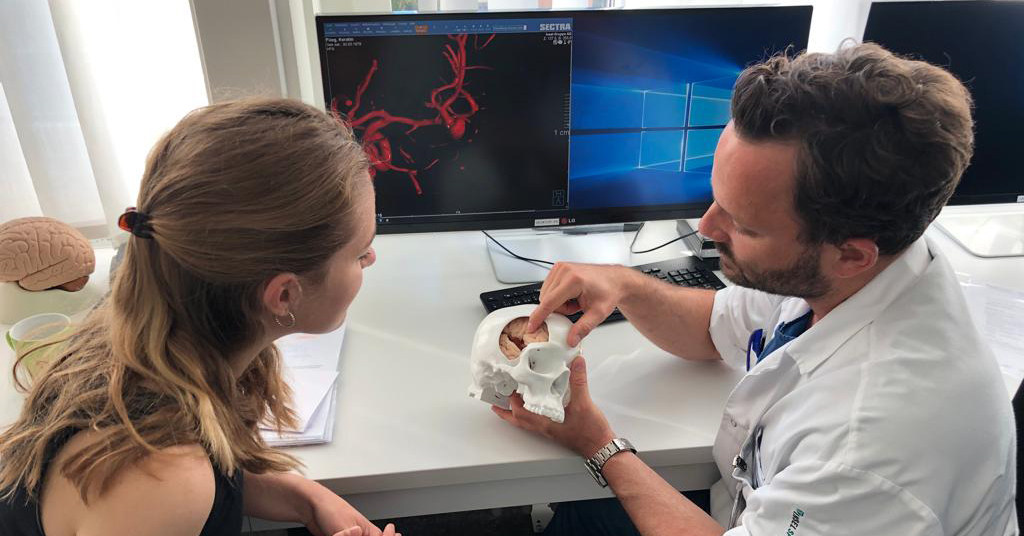 In a joint project with the Neurosurgery Department of the Inselspital, Bern University Hospital, Fredrick Joseph and Dr. David Bervini are investigating how 3D models of intracranial aneurysms, derived from real patient imaging, can help improve the understanding of patients what the neurosurgeon needs to do during surgery to safely treat their aneurysm.
To date, the models have been used with 10 patients who have reported increased confidence and a better relationship with the neurosurgeon. Models also helped patients understand the treatment options better so that they could give informed consent. Pioneering the field, the Department of Neurosurgery at Inselspital is planning to implement this methodology as a standard of care in the future for patient consultation before complex brain surgeries.