2021/02/10 | Research | Rehabilitation & Neural Engineering
Promoting Motor Variability during Robotic Training
Haptic guidance during robot-assisted motor training may hamper the re-learning of motor skills after neurological injury. Model Predictive Controllers (MPCs) which allow the training person to better perceive the environment dynamics, and therefore provide somatosensory information crucial for motor learning are a possible alternative. The ARTORG Motor Learning and Neurorehabilitation group has studied the effect of such MPCs on motor learning with 40 healthy participants.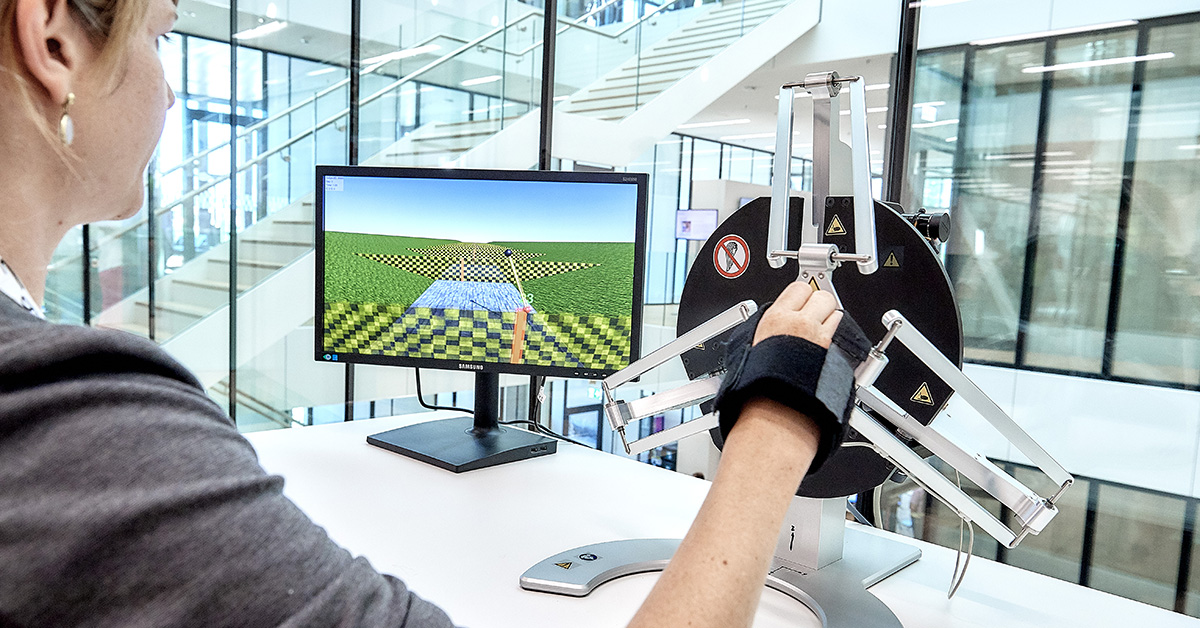 Motor variability is considered an essential factor for learning. The group therefore proposed two MPCs as alternatives to haptic guidance in robot-assisted motor rehabilitation with a Delta robot, since they minimize the assisting forces and promote motor variability during training. The task consisted of swinging a virtual pendulum to hit incoming targets with the pendulum ball.
The team compared the participants' performance during training and learning at short- and long-term retention tests to a control group who trained without assistance, and a group that trained with conventional haptic guidance. They found that the MPCs reduce the assisting forces compared to haptic guidance and that training with MPCs enhances motor learning of tasks with complex dynamics. MPCs could therefore be promising strategies to improve robotic training outcomes in neurological patients.
MLN is currently recruiting for other robot-assisted motor learning experiments. Please contact oezhan.oezen'at'artorg.unibe.ch for more information, if you are interested in taking part in the experiments.