AI based computer-aided diagnosis systems
Computer-aided diagnosis support systems (CADx) can provide a detailed quantitate analysis of medical images and clinical data. Over the last years we focus on the differential diagnosis of interstitial lung diseases using state-of-the-art artificial intelligence technologies.
Interstitial Lung Diseases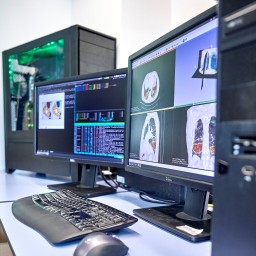 Interstitial lung disease (ILD) is a group of more than 200 chronic lung disorders characterized by inflammation and scarring of the lung tissue that leads to respiratory failure. ILD accounts for 15% of all cases seen by pulmonologists and can be caused by autoimmune disease, genetic abnormalities, infections, drugs or long-term exposure to hazardous materials. Although ILD is a heterogeneous group of histologically distinct diseases, most of these exhibit similar clinical presentations and their diagnosis often presents a diagnostic dilemma.
The aim of this project is to develop a computational system that will assist radiologists with the diagnosis of ILDs, while minimizing the dangerous, expensive and time-consuming invasive biopsies. To this end, the system provides a computerized differential diagnosis, based on radiological data and clinical/biochemical markers and is focused on the discrimination between idiopathic interstitial pneumonias, in particular, idiopathic pulmorary fibrosis, while keeping a generic architecture that could be expanded to most types of ILDs. The appropriate interpretation of the available radiological data combined with clinical/biochemical information can provide reliable diagnostic radiomarkers, able to improve the diagnostic accuracy of the physicians. In all the implemented algorithms, experimental configurations and evaluation schemes, the main focus is the bridging of the machine learning and medical diagnosis.
This research is carried out within the framework of the INTACT research project, supported by Bern University Hospital, "Inselspital", the Swiss National Science Foundation (SNSF), Stiftung Lindenhof Bern, Roche and Hasler Stiftung.