Assistive technology to enhance safety and autonomy of dementia patients at home
Project Members:
Reto Stucki, Prabitha Urwyler, Urs P Mosimann, Tobias Nef
Project Duration:
2011-2015
Funding:
Gottfried und Julia Bangerter-Rhyner-Stiftung
Most dementia patients have a strong desire to live autonomously in their known environment as long as possible. With cognitive decline, the ability to cope with activities of daily living (ADL) decreases, which leads to reduced autonomy and increased need for care. In combination with existing (i.e. Spitex) and new (i.e. ambulant old-age psychiatry) clinical and social caregiving approaches, assistive technology can help to improve care.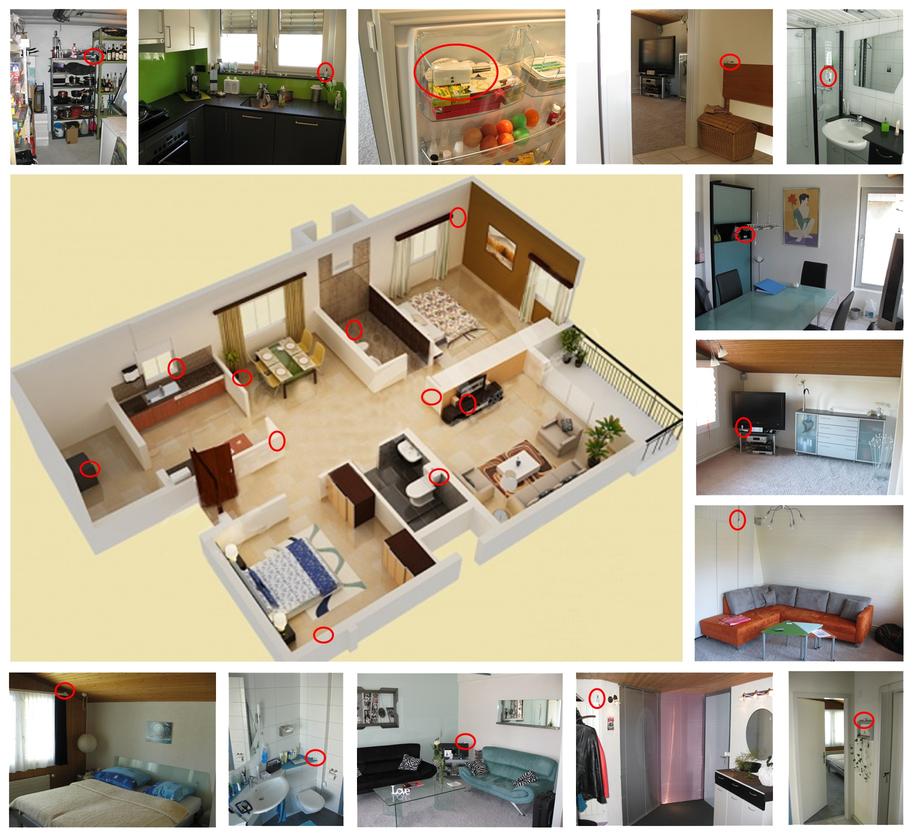 In this project, we develop and evaluate a new assistive technology system that meets the specific needs of elderly patients with cognitive impairment. A key feature of the new system is that it works in the background and does not require active interaction between the system and the supported patient. It measures environmental data (e.g. light distribution, movement patterns) and uses this information to analyze specific behavior pattern to assess the patient's ability to cope with ADL, and to predict short- and long-term risks. After preliminary field tests in the home of healthy volunteers, the system is currently measuring dementia patients. This project is funded in part by the Bangerter-Rhyner Foundation.
Keywords: Ambient assited living, ambient sensors, unobtrusive sensors, environmental sensors, acitvity recognition, activities of daily living, classifier, dementia
Urwyler-Harischandra, Prabitha; Stucki, Reto; Rampa, Luca; Müri, René Martin; Mosimann, Urs Peter; Nef, Tobias (2017). Cognitive impairment categorized in community-dwelling older adults with and without dementia using in-home sensors that recognise activities of daily living.Scientific Reports, 7(42084), p. 42084. Nature Publishing Group 10.1038/srep42084
Urwyler, Prabitha; Stucki, Reto; Müri, René Martin; Mosimann, Urs Peter; Nef, Tobias (August 2015). Passive wireless sensor systems can recognize activites of daily living. IEEE Engineering in Medicine and Biology Society conference proceedings, pp. 8042-8045. IEEE Service Center10.1109/EMBC.2015.7320259
Urwyler, Prabitha; Rampa, Luca; Stucki, Reto; Büchler, Marcel; Müri, René Martin; Mosimann, Urs Peter; Nef, Tobias (2015). Recognition of activities of daily living in healthy subjects using two ad-hoc classifiers. Biomedical engineering online, 14(54), p. 54. BioMed Central10.1186/s12938-015-0050-4
Nef, Tobias; Urwyler, Prabitha; Büchler, Marcel; Tarnanas, Ioannis; Stucki, Reto; Cazzoli, Dario; Müri, René Martin; Mosimann, Urs Peter (2015). Evaluation of Three State-of-the-Art Classifiers for Recognition of Activities of Daily Living from Smart Home Ambient Data. Sensors, 15(5), pp. 11725-11740. Molecular Diversity Preservation International MDPI 10.3390/s150511725
Stucki, Reto A.; Urwyler, Prabitha; Rampa, Luca; Müri, René Martin; Mosimann, Urs Peter; Nef, Tobias (2014). A web-based non-intrusive ambient system to measure and classify activities of daily living. Journal of medical internet research, 16(7), e175. Centre of Global eHealth Innovation 10.2196/jmir.3465
Stucki, Reto A.; Mosimann, Urs P.; Müri, René; Nef, Tobias (2013). Non-intrusive recognition of activities of daily living in the homes of Alzheimer patients. In: Ecarnação, Pedro; Azevedo, Luis; Gelderblom, Gerd Jan; Newell, Alan; Mathiassen, Niels-Erik (eds.) Assistive technology: from research to practice. Assistive technology research series: Vol. 33 (pp. 71-76). Leiden: IOS Press10.3233/978-1-61499-304-9-71