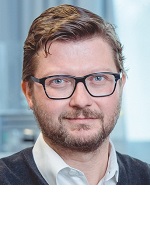 Prof. Dr. Dominik Obrist
Professor for Cardiovascular Engineering
University of Bern, ARTORG Center for Biomedical Engineering Research, Cardiovascular Engineering
Phone

Phone2

Fax

+41 31 632 7576

E-Mail

Postal Address

ARTORG Center for Biomedical Engineering Research
Freiburgstrasse 3
3010 Bern
Switzerland
Curriculum Vitae
| | |
| --- | --- |
| since 2013 | Professor for Cardiovascular Engineering, ARTORG Center for Biomedical Engineering Research, University of Bern |
| 2005 - 2013 | Senior researcher ("Oberassistent"), Institute of Fluid Dynamics, ETH Zürich |
| 1998 - 2005 | Cray Inc. (in Seattle, USA and Switzerland) in various positions (application analyst, pre-sales analyst, account manager) |
| 1997 - 2000 | PhD at the Dept. for Applied Mathematics of the University of Washingtion (Seattle, USA) |
| 1991 - 1997 | Studies in Mechanical Engineering, ETH Zürich |
Research Interests
Biomedical fluid dynamics
Cardiovascular Engineering
Fluid-structure interaction
Microcirculation
Hearing and balance sense
Respiratory flow
Gastrointestinal system
Hydrodynamic stability
Aeroacoustics
High-performance computing
Publications
Recent publications
Jahren S. E., Hurni S., Heinisch P. P., Winkler B., Obrist D., Weber A., Carrel T., Trans-valvular pressure gradients for different methods of mitral valve repair: only neochordoplasty achieves native valve gradients, Interactive Journal Cardiovasc Thor Surg, doi: 10.1093/icvts/ivx323, 2017.
Niederhauser T., Gafner E. S., Cantieni T., Grämiger M., Häberlin A., Obrist D., Burkhard F., Clavica F., Detection and quantification of overactive bladder activity in patients: can we make it better and automatic?, Neurology & Urodynamics, doi: 10.1002/nau.23357, 2017.
Vennemann B., Rösgen T., Heinisch P. P., Obrist D., Leaflet Kinematics of Mechanical and Bioprosthetic Aortic Valve Prostheses, ASAIO J, doi: 10.1097/MAT.0000000000000687, doid2017.
Frey S., Haine A., Kammer R., von Tengg-Kobligk H., Obrist D., Baumgartner I., Hemodynamic characterization of peripheral arterio-venous malformations, Ann Biomed Eng, doi:10.1007/s10439-017-1821-9, 2017.
Pfiffner F., Prochazka L., Péus D., Dobrev I., Dalbert A., Sim J.H., Kesterke R., Walraevens J., Harris F., Röösli C., Obrist D., Huber A., A MEMS Condenser Microphone-Based Intracochlear Acoustic Receiver, IEEE Trans Biomed Eng, 64(10):2431-8, doi: 10.1109/TBME.2016.2640447, 2017.
Clavica F., Homsy A., Jeandupeux L., Obrist D., Red blood cell phase separation in symmetric and asymmetric microchannel networks: effect of capillary dilation and inflow velocity, Sci Rep, 6:36763; doi: 10.1038/srep36763, 2016.
Hupp D., Arbenz P., Obrist D., A parallel Navier-Stokes solver using spectral discretization in time, Int J Comp Fluid Dyn, doi: 10.1080/10618562.2016.1242725, 2016.
Obrist D., Nienhaus A., Zamaro E., Kalla R., Mantokoudis G., Strupp M., Determinants for a successful Sémont maneuver: an in-vitro study with a semicircular canal model, Frontiers in Neurology – Neuro-otology 7:150. doi: 10.3389/fneur.2016.00150, 2016.
S. E. Jahren, B. M. Winkler, P. P. Heinisch, J. Wirz, T. Carrel, D. Obrist, Aortic stiffness affects the kinematics of bioprosthetic aortic valves, Interactive Journal Cardiovasc Thor Surg, doi: 10.1093/icvts/ivw284, 2016.
Vennemann B., Rösgen T., Carrel T. P., Obrist D., Time-Resolved Micro PIV in the Pivoting Area of the Triflo Mechanical Heart Valve, Cardiovasc Eng Tech, 1-13, 2016.
Hasler D., Landolt A., Obrist D., Tomographic PIV behind a prosthetic heart valve, Exp Fluids, 57(5):1-13, 2016.
Grieser B., Kleiser L., Obrist D., Identifying mechanisms behind the Tullio phenomenon: a computational study based on first principles, JARO, 17:103–118, doi: 10.1007/s10162-016-0553-0, 2016.
John M. O., Obrist D., Kleiser L., Secondary instability and subcritical transition of the leading-edge boundary layer, J Fluid Mech, 792:682-711, doi:10.1017/jfm.2016.117, 2016.
Online