2020/11/13 | Research | Robotics
Haptic rendering in robotic rehabilitation
In robot-assisted neurorehabilitation somatosensory information is crucial to provoke brain plasticity. Yet, only few robotic rehabilitation devices currently offer this feature. The ARTORG Motor Learning and Neurorehabilitation lab has now published a study, suggesting that haptic rendering, together with arm weight support, can potentially enhance neurorehabilitation and motor skill re-acquisition.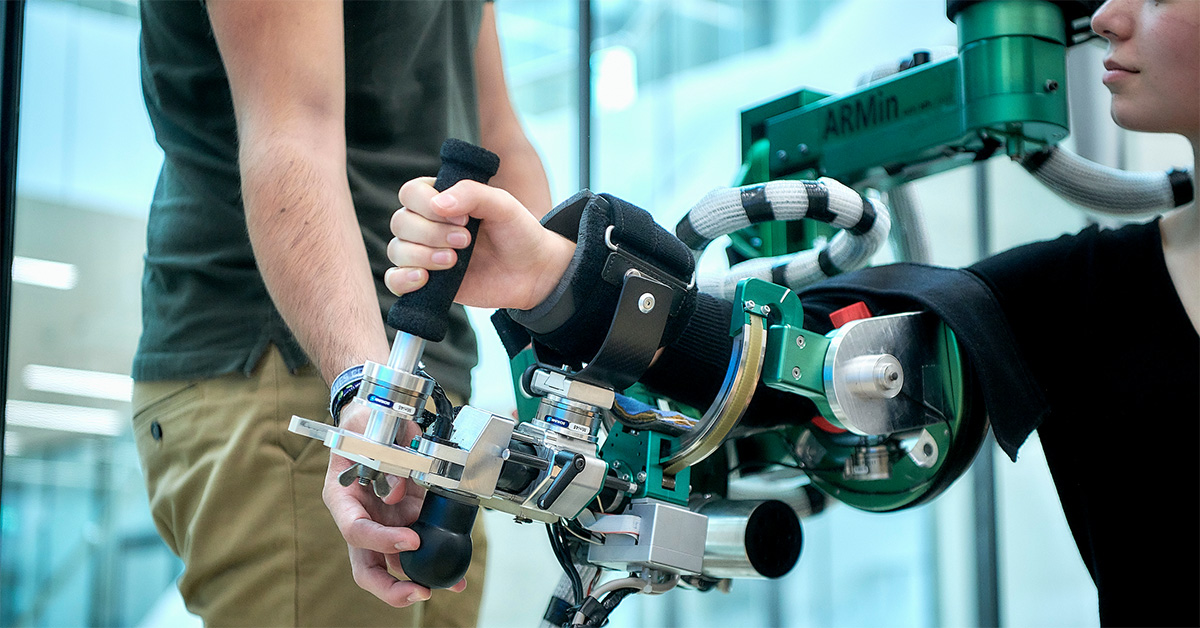 The study with six healthy participants employed Disturbance Observers to achieve high transparency and fine haptic capabilities on the exoskeleton ARMin. The team incorporated arm weight compensation to reduce the excessive physical effort required to move against gravity, promoting movement performance and directing the participants' effort to the interaction with the environment.
The results showed that haptic rendering of the dynamics of the assigned task (inverting a virtual pendulum) affects the movement strategy the participants follow. Arm weight support, by contrast, increased task performance and reduced participants' effort, but did not change the movement strategy. Added somatosensory information during motor training could thus help trigger brain plasticity and enhance neurorehabilitation training outcomes.
The team will present the study results at the 8th IEEE RAS/EMBS International Conference on Biomedical Robotics & Biomechatronics (BioRob2020) from 29 November - 1 December 2020.
Motor Learning and Neurorehabilitation: Rehabilitation Robotics